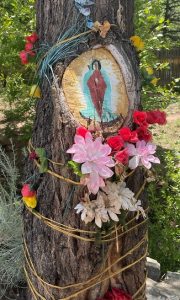 FWJ Spring 2022 introduced the theme of Rematriation—a process of reclaiming the kindness, gentleness, and strength of the Feminine and reintroducing these principles into a world currently driven by toxic masculinity. Our Fall issue takes the process a bit further as we explore some ways in which we can do this. We'll begin by observing how creatures most in harmony with Nature and the Divine Feminine—plants and animals—treat each other, and compare that with how we more disharmonious humans treat non-human others and ourselves.
The word "respect" has lost its true meaning. Its Latin source, respicio, means "to have regard for the rights of others." Another meaning might be to "re-spect" – to look again, not just with the eyes but with the heart. Recent events, most notably the US Supreme Court's revocation of Roe v. Wade's protection of women's bodies and women's rights, prove that we do not respect the rights and lives of half our own species, not to mention the rights and lives of others.
FWJ Fall 2022 invites you to pause, reflect, and share your own deep thoughts and feelings in the Letters to the Editor section on our website:  https://orenda-arts.org/letters-to-the-editor-2/.  Approved Letters to the Editor will be printed in the Winter issue of the Journal. They'll stay up in the Journal online and on our website throughout the next several months.